5 BEST Minecraft Skin Makers: Expert Picks (2022)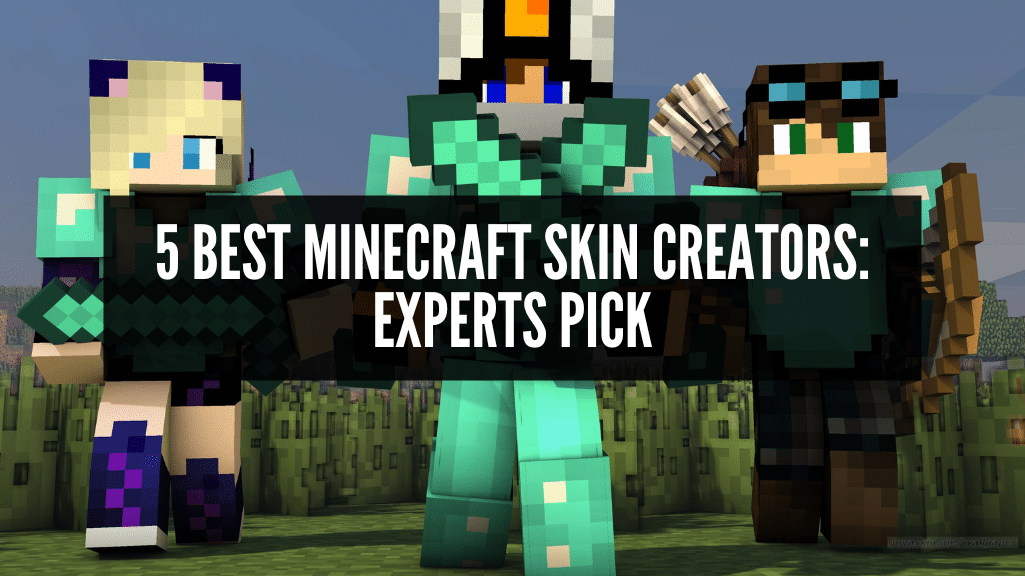 Do you want to show your creativity by playing Minecraft with friends or on a public server? Skins are a great way to customize your character, and we've compiled the 5 best Minecraft skin creators for you!
Whether you want to let your imagination run wild or go a more traditional route, using a Minecraft skin editor from your browser should be a fun and easy process. These editors are available for any web browser and will allow you to upload your design and upload it for the world to see!
Are you excited to find out who was selected as the best Minecraft sink editor? Say no more. Our listing features
If you want to keep reading about the features and benefits of each Minecraft skin editor, keep reading!
Also: Want to install mods and manage them easily? Download one of the top 10 Minecraft launchers and never lose track of modded versions of your game!
Skin Editor by Skindex might be one of the most popular Minecraft skin editor available online today as an accessible and convenient tool for gamers. Choose between the classic or slim version and start drawing!
The interface is as simple as possible.
You get the base 3D model that you can rotate to fill in pixels, a color wheel, and other essential tools to draw and paint your character the way you want. The mirror tool is a great way to ensure maximum symmetry when drawing, taking the stress out of the process.
If you want to search for someone else's design, Skindex offers a robust library of custom typefaces. Browse or use the search bar to narrow your results!
You can also login to save skins to your library and change them more easily. You can also upload your final design to the Skindex site or Minecraft.net, or download the files directly to your computer.
If you're looking for a hassle-free experience when using a Minecraft skin editor, Skindex's editor is an ideal option. But what if you're looking for more control over your creations?
Related: We've compiled and ranked the 30 best Minecraft skins if you want to jump straight into the game with a fantastic design!
The site layout may seem more cluttered compared to Skindex's editor, but at the same time, you have more tools for creative control over the design process. For example, Nova Skin uses layers to better organize your design, following the same logic as well-known design software like Photoshop or GIMP.
At Nova Skins, you can download your skin files if you want to modify them again. If you don't want to start from scratch, it also has a robust library of skins uploaded by other users. These designs are available for base layer and overlay – your Minecraft skin can have more intricate texture and finer detail with this feature!
Suppose you want to make sure your character looks the way you imagined in specific positions. You can use the Pose tab to select a particular pose or move body parts independently by dragging the toggle bar.
You can also choose from their library of items for your model to hold in their left or right hand. Another option available is the 2D viewer to preview the final export.
We consider Nova Skin to be a great Minecraft skin editor with all of that in mind. However, one last thing elevates it to its position as one of the best Minecraft skin editors.
The most outstanding feature of Nova Skin is the custom wallpapers that you can create from your new skins. The site offers several backgrounds and a variable number of models included in predetermined poses. You can pose next to your friends or famous Minecraft players to show off on your desk!
Also: Use the BEST Minecraft server hosting providers to have the best multiplayer experience with your friends!
Planet Minecraft is a popular site for all Minecraft related community content. It also has one of the best Minecraft skin editors, with plenty of tools available to create the perfect skin without missing a single pixel.
When you enter the skin editor directly from your browser, you can choose between the Lite or Advanced version. We suggest using the advanced version if you want to pay close attention to detail, like changing the opacity or shape of the pen.
Whichever you choose, the classic pencil, eraser, paint bucket, color picker, and spray all work smoothly. There is also an RGB/HSL/HSV color palette to achieve the most accurate tones possible.
The editor offers many ways to preview your character in a 3D environment or as a 2D model. Another cool feature of this Minecraft skin editor is the different positions you can switch. This way you can spot areas you might have missed!
Once you're happy with the results, you can upload the skin to Planet Minecraft if you're already a user, or import the file directly to your computer.
Even though the layout of the site might seem outdated or counter-intuitive for some users, we can't deny that we have a powerful Minecraft skin creator here.
We can't ignore Bedrock or Pocket Edition players, especially if they feel more comfortable creating their Minecraft skins directly from their mobile devices. Skinseed is an exclusive Minecraft skin maker app available on App Store and Google Play Store.
The mobile-optimized layout is very useful for painting your creations in no time! You have the option of starting from a blank slate or downloading a previous layout to modify.
Whether you choose standard quality or opt for an HD template, switch between body and overlay layers or view both simultaneously to check how your creation looks.
If you find it difficult to develop original designs, you can always access the huge library and browse millions of templates.
Once you've locked in your choice or finished your character skin, all you have to do is import the file to your phone and upload it to the game in no time. Skinseed also allows users to create custom skin collections for later access.
Overall, Skinseed is the best Minecraft skin maker for mobile users, so we hope you don't hesitate to give it a try and see the results for yourself!
Related: Have you ever wondered if Minecraft supports cross-platform? We've done our research and have the answers you need!
If you're a gamer looking for the easiest way to create a custom Minecraft skin, MCSkins should be the answer. This is a browser-only Minecraft skin creator with the basic tools you need to create your original character in a simple layout.
MCSkin.top, like many other Minecraft skin makers, also hosts their library with user submissions that you can download and use for your character.
You can easily switch between Alex's or Steve's templates and enable features like grid view, mirror and background color with just one click. Although the main difference between them is the width of the arms, it is a stylistic choice that you should consider when designing your skin.
One thing to note is that you can change your color tone with the toolbar and fade existing colors with the spray. However, there is no option to include an overlay.
The advanced settings don't allow for major changes compared to other Minecraft skin editors, but they're still useful for customizing how you interact with the editor.
If you ever close the window by accident, MCSkin.top will save your progress to the cloud, so you don't have to worry about losing your design!
Also: Check out the 20 best Minecraft modpacks to completely change the way you play this game!
How to Change the Default Minecraft Skin
Now that we've reviewed the best Minecraft skin editors, you might be wondering how to get your design into the game. Once you've uploaded the PNG file containing your design, the process will vary slightly depending on the version. of Minecraft you are playing.
If you play Minecraft Java Edition you can go to the official launcher and select the Skins tab to add your new design to your library.
For Pocket EditionLaunch Minecraft and choose Skins option from main menu, where you need to select Browse Skin option and select .png file on your device.
We hope our list of the best Minecraft skin editors can help players find the most useful option to customize, upload, and share their designs with the community or themselves.
Whether you prefer the sandbox aspect of the game or care more about playing with friends on a server, Minecraft is all about letting your imagination run wild!
Have you ever tried any of these skin editors for Minecraft? Let us know in the comments below and thanks for reading!